penelope.net presents: boys we like too
The Plus Ones - On The List
(2000) Coldfront Records 5 tracks

The Plus Ones are here!!! Featuring Joel Reader (MTX); Scotty Hays (Receivers); and Danny Panic (Screeching Weasel) their brand new CD EP "On The List" contains 5 ultra-pop/punk tunes that will have you up and out of your seats in seconds flat. Excellent songwriting, singing, playing and harmonising is not all they're about... they are also cute! Check them out before them become huge! Produced by Robert Shimp (Donnas).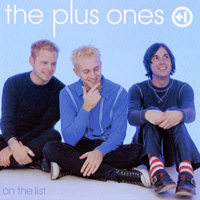 Tracks: You've Been Had / A-M-Y (That Spells Amy) / She's My Sister / Now You Know I Do / You Still Want Me
$7.99 CD EP item# GG21
Shipping is $2.00. To order:
For US buyers with creditcards, click the button below for instant purchase!
Shipped in USA. $7.99 CD + $2 shipping


add to cart.

penelope.net presents: girlfriends who rock!
These are all independent female artists who have inspired me or whom I've inspired. Many of us have shared stages, BBQs and glitter.
To widen your horizons I recommend them all. -Penelope

Click here for Artists A-K
Click here for Artists L-Z

Or jump directly to:
Avengers, Barbara Manning, Beth Custer, Bikini Kill, Bonfire Madigan, Bratmobile, The Brood, Diana Darby, The Donnas, Exgirl, Handsome 3Some, Jean Caffiene, Jill Olson, Kindness, Knife In Water (Debora Iyall), Le Tigre, Lois Maffeo, The Muffs, Noelle Hampton, Penelope Houston, Ramona The Pest, Ronnie Spector, She Mob, Sleater Kinney, Terese Taylor, Tiny, and Virginia Dare plus boys we like.